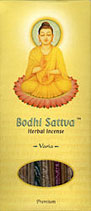 H E R B A L I N C E N S E
Worlds finest natural masala incense!
Hand made for generations!
Kaviraja Ayurvedic Incense
Bodhi Sattva Herbal
Kamala ~ India's finest incense
Zodiac Astrological Incense
"As the air acquires its fragrance by contact with the earth, likewise the mind acquires peace by contact with herbs which are lit by fire." (anonymous monk)
Interested in aromatherapy? Impove Your Health with Good Scents.